Location
Stadtkino im Künstlerhaus, Akademiestraße 13, 1010 Wien
Two Austrian premieres by Giga Chkheidze

George Chkheidze is mainly known in USA and Germany. Particularly successful was the film "Brazil". It was presented by major New York film art venues. The Museum of Modern Arts MoMA, Lincoln Center and Anthology Film Archives have presented his flms. Chkheidze was reviewed by The New York Times. In cooperation with the Künstlerhaus, Giga Goerge Chkheidze presents three of his most successful works. Two films can be seen in Austria for the first time. The film director will be present  for a Q & A.
Free entry!
FILM PROGRAMM
Giga George Chkheidze APRIL IN PARIS (2014)
Two world-famous musicians: She from Georgia, he from Israel. They both live in Paris. She - a young star pianist, he - a violin legend of our time. Their dialogue of love and passion in the language of music and poetry, beyond space and time. A film starring Ivry Gitlis, the music of the 20th century, and Khatia Buniatishvili, a star of 21st century classical music ...


The documentary is also an attempt by Chkheidze to create an artist portrait per se. The idea is that art has no spatial, temporal, gender, age-related boundaries. Silvana Mangano, Chopin, Liszt, Rachmaninov, Maria Theresia of Paradis, Arthur Rimbaud, Paul Verlaine, Gérard Philipe are synthesized and united as an epic portrait of the artist per se. All this is also unified by the simplest and most abstract word of LOVE.
Screenings: FESTIVAL INTERNAZIONALE DEL CINEMA D'ARTE - Milano 2014, ORLANDO Film Festival 2014 ART VISUALS & POETRY FILMFESTIVAL Wien 2014, International Film Festival "Listapad" Minsk  2014,The Phuket Festival of New Cinema 2014, JUMPTHECUT Singapore 2015, CINEMÍSTICA Granada 2015, Toronto World  International Film Festival 2015, INDEPENDENT-SPIRIT-AWARD, Singapore World  International Film Festival 2016, Hong Kong World  International Film Festival 2016, ArteNonStopFestival,Buenos Aires 2016, ANSFF-PALMAS-SPECIAL-MENTION, TEA CUP-filmfestival Munich,Berlin 2017. The 75 minutes long version of "April in Paris" was distributed by the Toronto World  International Film Festival: screenings at  Munich -Monopol Kino 2017, Berlin - Babylon Kino  2017, Munich Neues Maxim Kino 2017.
Giga George Chkheidze LAKE (2001)
"An absurd situation in an unreal landscape, death is omnipresent and brings together the most diverse people." (ARTE)

"Inspired by an incident during the civil war in Georgia in 1992 as well as by a short story by Wolfdietrich Schnurres, Georgian-born filmmaker Giga Chkheidze tells in reduced, vivid images of how death can become an irrelevant banality in the context of war. " (3sat)
Screenings:L'Alternativa International Independent Film Festival Barcelona 2001,Int. Film Festival Rotterdam 2002, Anthology Film Archives NYC 2002, Int. Short Film Festival Oberhausen  2002, Melbourne Int. Film Festival 2002, Int. Film Festival Cinema Texas, Austin 2002: Int. Competetion Best Screenplay Award,Int. Film Festival Cottbus 2002, NY EXPOsition of Short Film and Video 2002 (Jury Award). TV: ARTE, 3sat, ZDF.
​
Giga George Chkheidze BRAZIL (2000)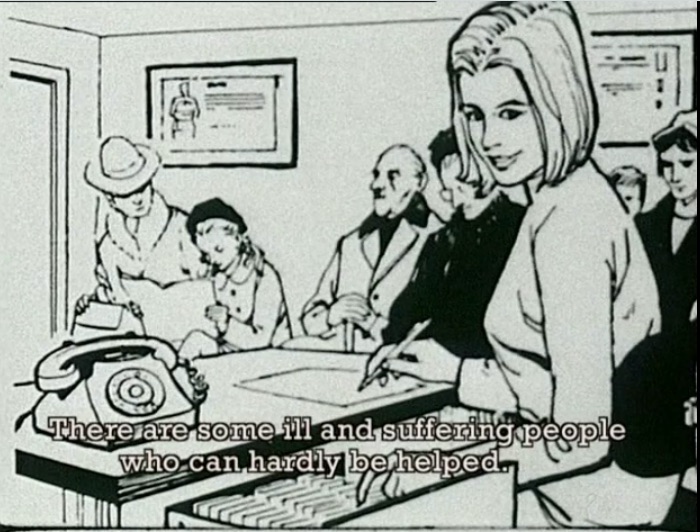 "

A German Linguaphone course was the basis for this not easily placed yet fascinating work.The point of departure for this experimental fiction film was a German language course. The 'story' is about a German family that returns from Brazil to their home town of Munich. The accent is on the form and rhythm of the film.

"

(FILM FESTIVAL ROTTERDAM)
'"Brazil,'' a German-language short by the Georgian director Giga Chkheidze that practices its own brand of enigmatic deadpan wit. Using line drawings and sample phrases from a foreign-language textbook, Mr. Chkheidze cobbles together the story of an expatriate German family on a tour of their homeland, a story with curious overtones of melodrama, sex farce and film noir. It's a bracingly odd piece of work; I laughed throughout it, without ever knowing quite why".​ New York Times
Screenings: Int. Film Festival Rotterdam 2001, The Film Society of Lincoln Center: New Directors / New Films NYC 2001, Museum of Modern Arts (MoMA) NYC 2001,Anthology Film Archives NYC 2001, Int. Film Festival Cinema Texas, Austin 2001, Int. Competition Best Director' s Award.
Running time: 68 minutes
After the screening film talk in English, Q & A with George Chkheidze.
Curated and moderated by Sigrun Höllrigl. 
The screening is organized by Künstlerhaus Wien in cooperation with Art Visuals & Poetry.
Giga (George) Chkheidze, was born on January 8, 1965 in Tbilisi, Georgia. In 1986 he graduated from the State Theater and Film School Tbilisi (camera). At the same time he studied jazz and electronic music. 1986-1991 he worked as "Director of Photography" in the Georgian state-owned film studio "Gruzia Film". In 1992 he started his career as an independent filmmaker. Since 1993 he has realized several independent film projects in Moscow, London, Berlin and Munich. From 1998 to 2003 he realized several film projects in cooperation with DFFB Berlin and HFF München. His films have been screened at many prestigious international film festivals (Rotterdam, Oberhausen, IDFA Amsterdam, San Sebastian, New Directors / New Films NYC) and were included in film art programs of Museum of Modern Arts MoMA, The Film Society of Lincoln Center NY, Anthology Film NY) as well ARTE, 3sat, ZDF. His films were broadcasted by various television stations. He has been awarded at several international film festivals.